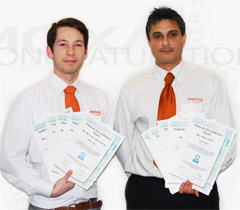 Following the annual Moxa technical training course which was held in Munich, Team Amplicon the UK premier Moxa distributor achieved an outstanding 100% success rate.
The Moxa Technical Support Certification (MTSC) course is an annual 3 day training event designed to provide distributors with the knowledge required to properly support the Moxa product range.
Each of the core topics were the subject of a rigorous exam with Amplicon's product specialist, Michael Whitehead; and Data Communications senior sales engineer, Niraj Haria emerging with passes in every category.
Amplicon will now run sessions of internal training courses so that the valuable knowledge gained at the event is passed onto the whole technical sales and support team. This will ensure that Team Amplicon can continue to provide customers with unbeatable pre and post-sales support on the full range of Moxa products.
26.01.2011