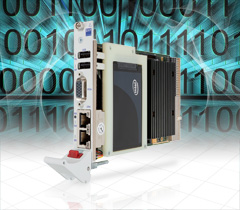 Amplicon's Industrial Computing group has released the EKF PC1-GROOVE, a powerful 4HP/3U CompactPCI processor module, equipped with an Intel Core i7 processor and compliant with latest PICMG 2.30 / CompactPCI PlusIO standard.
At the heart of the new processor module is Intel's latest power efficient Core i7 processor, with a clock speed up to 2.53Ghz, further augmented by Intel Turbo Boost technology to a maximum of 3.2Ghz and an integrated DDR 3 memory controller.
Conforming to the PICMG 2.30 - CompactPCI PlusIO specification, the PC1-GROOVE provides standardised high speed I/O across the backplane connector J2, which includes PCI Express, SATA, and Gigabit Ethernet connectivity, allowing the latest high performance add-on cards to be used with the module.
The processor module, also maintains the standard PCI-bus connectivity on the CompactPCI bus making the module both backwards compatible with 'classic' CompactPCI systems, and with hybrid systems; providing a bridge for both generations of add-on cards to be used within the same system.
14.12.2010