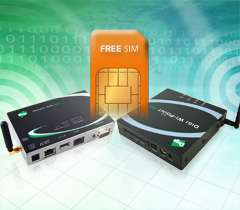 Amplicon's data communications division is now including a free SIM card with the purchase of every cellular device. This initiative aims to provide a unique and improved service for customers who require machine to machine (M2M) device networking products.
Amplicon are the premier partner of Digi automation products in the UK and as part of an innovative new customer service Amplicon are now supplying a free of charge SIM card with every cellular order, products such as Digi GPRS, 3G, HSDPA and HSUPA routers. The SIM itself is provided by Wireless Logic, the largest M2M SIM provider for Vodafone, O2 & Orange in the UK & Europe.
The product will be delivered bundled with a free un-registered Vodaphone SIM card and full instructions on how to get started. This gives the customer a simple and convenient way to get their product up and running straight from the box. Wireless Logic can guide customers through their application and data requirements, offering tailored service agreements specifically for the M2M market.
For more information click here
08.12.2010