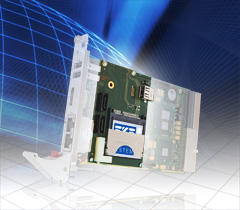 Amplicon's Industrial computing group has announced the release of a new high performance storage adaptor compatible with their existing range of high reliability EKF CompactPCI processor boards.
The new CompactPCI storage adaptor, C41-CFAST can be used with CFast media, a very recently released successor to the well established CompactFlash format. CFast is directly connected to the modern SATA interface, rather than the older PATA interface, as CompactFlash cards were. The result of this is a significant increase in disk performance; up to 375MB/sec compared with 90MB/s available on today's high end CompactFlash cards.
The additional performance makes the media the ideal choice to host an operating system, with industrial grade versions supporting enhanced wear levelling algorithms as well as for 'trim' command support. Though C41-CFAST allows the CFast card to be easily replaced, it is secured against extreme operation conditions such as vibration making it ideal for the typical ruggedised applications cPCI is often used for, and yet is still compact enough to maintain the slim 4HP profile of the host controller board it is fitted to.
01.12.2010