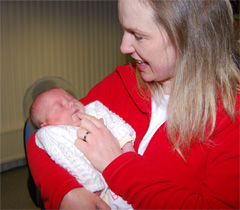 Amplicon are delighted to announce the arrival of a very special young lady.
On the 7th October our senior sales administrator Sandra Goddard gave birth to her first baby. A very tiny, perfect and extremely beautiful baby girl, Abigail Rose Anne, made her entrance into the world weighing in at 6lbs 6.5ozs
Mother and baby are doing well, and Dad is still congratulating himself on a job well done!!
Welcome to the newest and tiniest member of team Amplicon!
26.10.2010