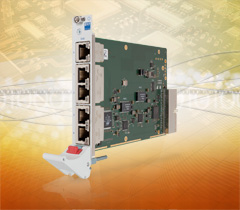 Amplicon's Industrial Computing division has announced the addition of a new 5-Port CompactPCI high performance Gigabit Ethernet switch to its diverse range of cPCI add-on modules.
The new switch, EKF CL1-Combo, is a high performance managed Gigabit switch in a 3U single width CompactPCI form factor. It provides five Gigabit Ethernet ports on its front panel, with a sixth port optionally connected directly to the host cPCI controller through the PCI bus without the need for additional cabling. It can also be provided as a standalone module not requiring a connection to the PCI bus.
The CL1-Combo is equipped with a Marvel 88E6350R switch which has built in management, and a rich feature set including the latest 802.1 Audio Video Bridging (AVB) standards and support for Quality of Service (QOS), providing a highly reliable and consistent network infrastructure.
As a CompactPCI module, the switch is designed for use in harsh environments with excellent resistance to shock/vibration and provides the potential for several separate switch modules to be housed in a single 3U cPCI 19" enclosure, each with an optional direct link to the same host computer, removing the need for several additional network interfaces and cabling.
All of which makes the CL-1 Gigabit switch module ideal for a wide range of industrial communication applications including many within the Transport and Defence sectors.
For further details please visit: http://www.amplicon.com/IPC/product/Compact-cPCI-EKF-4269.cfm
19.10.2010