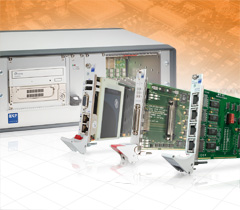 Amplicon has announced a partnership with EKF, the specialist CompactPCI manufacturer.
CompactPCI is an alternative industrial computing form-factor, with a system design specification to provide high performance computing with exceptional thermal, EMC, shock and vibration characteristics. CompactPCI components are fully modular, allowing for systems to be hot-swapped in a matter of minutes. All of which makes cPCI perfect for critical applications with stringent environmental requirements typically common place in military, avionic and transport industries.
Wolfgang Wiest, EKF Channel Manager commented: "There has been a growing interest for EKF products and solutions in the UK for several years, and we are extremely pleased to have partnered with Amplicon; a well known and technically skilled partner to provide for customer requirements".
The partnership with EKF has enabled Amplicon to compliment its existing range of cPCI solutions to provide the market place with fully integrated, customised 'Turn-Key' Compact PCI systems. Ian Langton, Amplicon industrial computing product specialist commented: 'This is an exciting addition to our Compact PCI portfolio and underlines our on-going commitment to provide our customers with highly ruggedised computer systems.'
06.10.2010