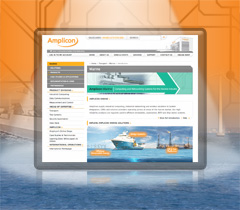 Amplicon have recently launched a new marine section in their website featuring the flagship product, MC-4510 – Amplicon's first DNV approved marine computer.
Hot on the heels of developments in the road and rail sectors, the new Marine section is designed to highlight the ways in which Amplicon support system integrators, installers and OEMs working in the marine market. It also features a unique list of DNV approved computers, Industrial Ethernet switches, serial to Ethernet converters and other highly relevant products.
Developments such as the increase in offshore renewable energy systems and ECDIS (Electronic Chart Display and Information System) legislation have helped to generate new opportunities for electronic systems specialists such as Amplicon. The deployment of Amplicon's marine focus area is the culmination of many months of work on the 'Transportation' market which has seen similar activities for the 'Road' and 'Rail' sectors.
Richard Munson, UK Sales Manager at Amplicon commented: "The transportation sector is an important focus area for Amplicon, and with such a diverse portfolio, our major objective is to describe clearly how we can assist customers to build automated systems and our new road, rail and marine sections are the perfect vehicle for this message."
For further details please visit: www.amplicon.com/marine
04.08.2010