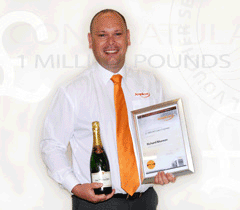 June 30th marked the end of the Amplicon financial year. It signalled the completion of one of the toughest we had faced, but it had also been another successful year.
Four members of the exceptional Amplicon sales team have each achieved sales in excess of £1 million. Even more outstanding, Richard Munson, UK sales manager, has managed this performance for the 5th year running; and his colleague Darren Saxby, international sales manager has achieved this for the second time.
Our £1million first timers are Dave Haxby from our industrial computing group, and Niraj Haria from our data communications group.
20.07.2010