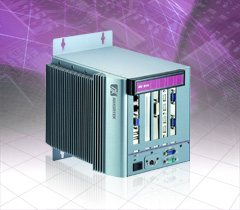 Amplicon have launched the IPC-914 range of 'mini-node' industrial computer systems. The 914 stands shoulders above its competition, due to the powerful Intel Core 2 Duo processing power, ultra-compact size and impressive expansion for up to four plug-in cards (PCI or PCIe). Low voltage DC and AC mains powered models increase its flexibility even further. This is a truly rugged and versatile unit with enough processing power to handle complex applications with ease.
With all electronics well protected in an extremely rugged cold-rolled steel housing only 182 x 248 x 185 mm in size, the IPC-914 offers four PCI slots or two PCI plus one PCIex16 and PCIex1 to deliver massive expandability. The system also supports one 2.5" HDD (mechanical or solid state) for high-capacity storage.
The system can be completely customised to meet specific project requirements and Amplicon can help with embedded software development to produce a bespoke product for OEM customers. IPC-914 can be used in conjunction with Amplicon's networking products to distribute system data across a LAN, WAN or even the internet!
Look out for the IPC-912 and IPC-916 (2 and 6 slot variants respectively) - coming soon!
For further details please visit: http://www.amplicon.com/IPC/product/Embedded-Rugged-IPC-91X-4101.cfm
14.06.2010