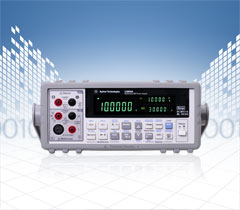 The new Agilent U3606A multimeter / DC power supply is a convenient hybrid that combines a 5½-digit DMM and a 30W dual-range power supply. Unlike most "source-and-measure" devices, the DMM and power supply can operate simultaneously and independently, providing efficient, affordable testing and saving space on the bench or in a rack.
The DMM includes essential multimeter capabilities as well as four-wire milliohm measurements and eight maths functions. The power supply adds overvoltage and overcurrent protection plus additional output capabilities such as auto scan and ramp, and a square-wave generator.
The new U3606A source and measure unit (SMU) is ideal for integration into a low cost test system using USB or GPIB communications, or as a standalone bench-top instrument in educational, electronics and communications applications.
The product is now available from Amplicon's new Test & Measurement Web shop along with many hundreds of other innovative products.
Find out more about the
Agilent U3606A
12.05.2010