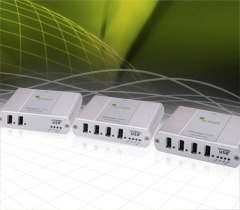 The new USB Ranger® 2200 family of products represents the leading edge of USB 2.0 Extension solutions, providing world class USB 2.0 connectivity over Cat 5 and fibre-optic cables at data rates up to 480Mbps.
The Ranger 2200 products integrate the LionsGate™ USB Extension ASIC, and feature the patented ExtremeUSB® protocol to extend USB to reaches of 100m over Cat 5 cabling and up to 10km over fibre. All systems are housed in durable metal enclosures and meet emissions and EMC testing standards for use in a wide variety of demanding end applications.
ExtremeUSB® provides long reach USB 2.0 connections without performance degradation and with the maximum ease of integration. The Ranger 2200 products are true plug and play devices, requiring no additional software drivers. They are compatible with all major operating systems - Windows, MAC and Linux.
Models in the range include:
Ranger 2204 - 4 port USB2.0 extender using CAT5/6 cable up to 100m
Ranger 2212 - Unique 2 port USB2.0 extender with remote power (full 500mA) capability
Ranger 2224 - 4 port fibre-optic USB2.0 extension up to 500m using multimode fibre
Ranger 2244 - 4 port fibre-optic USB2.0 extension up to 10km using singlemode fibre
The Ranger 2212 features an extremely useful and completely unique remote power capability – by injecting 24Vdc on to the line at the PC end of the link, each of the 2 ports at the remote end can provide a full 500mA per the USB specification to remotely power devices such as cameras, fingerprint readers, printers and data acquisition modules.
David Evans, Product Development Manager at Amplicon commented: "Many people learn the USB extender lesson the hard way. They initially opt for cheap alternatives or active USB extension cables only to find the 'flakey' performance of such devices wreaking havoc with their installations. The patented 'ExtremeUSB' protocol featured in the 2200 series makes them the fastest and most reliable USB2.0 extenders in the market."
For further details please visit: http://www.amplicon.com/Data-Comms/product/USB-USB-USB-4092.cfm
27.04.2010