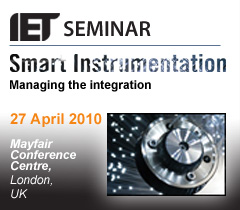 Amplicon's cellular communications specialist, David Evans, has been chosen to deliver a presentation on the application of GPRS & 3G technology in the Instrumentation industry at the Smart Instrumentation 2010 seminar hosted by The IET on 27th April 2010.
This event provides a forum for safety critical industries to discuss how to overcome technical and security hurdles associated with employing smart instrumentation in equipment.
Amplicon's presentation will cover the following areas:
Cellular network evolution in the UK
How to communicate with Instruments through the 3G network
Understanding the pitfalls associated with cellular communications
Application studies highlighting the benefits of cellular enabled Instruments
"Amplicon has many years expertise in designing wireless GPRS & 3G solutions. This speaker opportunity will help us to spread the message about the rapidly evolving cellular market and we strongly recommend that anyone interested in cellular systems should attend!" David Evans, Product Development Manager.
To register please visit: http://conferences.theiet.org/smart-instrumentation/index.htm
If you would like to learn more about cellular technology or Amplicon's involvement in the Smart Instrumentation seminar, please do not hesitate to contact our sales team on 01273 570 220 or email at
sales@amplicon.com
14.04.2010