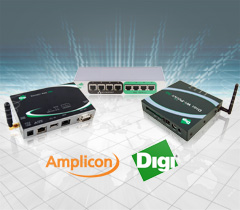 Industrial networking and computing specialists Amplicon are set to become the primary distributor for Digi's extensive range of connectivity hardware in the UK.
With investment in stock, staff and the addition of over 300 new products on Amplicon's website comes the consolidation of a 6 year relationship designed to push sales figures to the next level.
Gina Citroni, Amplicon CEO commented: "Recent discussions with Digi's European management team highlighted a mutual opportunity for increased co-operation. Both sides have grasped the nettle and we are already starting to see an increase in business."
It is hoped that Amplicon's 15 strong sales team will be able to generate new business for Digi's legacy products such as console servers, terminal servers and serial communications boards and converters. The major growth will be driven from a new cost-effective range of Industrial grade cellular routers.
Digi have made progress in the cellular router market through internal product development and the acquisition of Sarian Systems in 2008. A new version of the best-selling 'Digi Connect WAN' series router provides HSUPA connectivity, serial and Ethernet connections, an extensive feature set and 5 year warranty for under £400. Such a proposition has not previously been available in the market and interest is expected to be very high.
13.04.2010