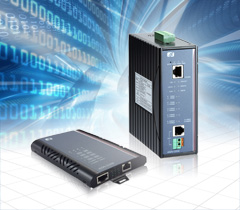 Do you understand Ethernet Extenders? Technically, they are not difficult to grasp but the question really is do you understand how much time and money they could save you? Do you realise they could earn you a promotion? Are you aware that they could represent an entirely new revenue stream for your business?
Ethernet extenders use DSL (Digital Subscriber Line – technology used by Telcos to transmit high-speed broadband data from the telephone exchange to your house over your phone line) to extend Ethernet links up to 10km over a single pair of low-grade copper wires. The units operate transparently as part of an existing network with no drivers to install or complex setup procedures. All 'IP' traffic that could be sent across a standard patch cable can be sent across an Ethernet Extender link.
The potential to save money using Ethernet Extenders becomes very apparent when they are used instead of a fibre-optic link or a wireless bridge. An old pair of telephone wires or some defunct RS485 cabling from a security camera can suddenly become a very precious commodity on a site that requires long-range Ethernet connections. Even in simple applications where a run of Cat5 cable exceeds the 100m distance limit for Ethernet, Ethernet Extenders can be deployed to save the cost of signal repeaters, power supplies and associated housings for the equipment.
In a highly competitive market, simply being aware of an Ethernet Extender solution could transform your business fortunes.
David Evans, Product Development Manager at Amplicon comments: "There is a huge potential for these products in both industrial and IT based applications. The difficulty lies in educating the market because the 'you appeal' is specific to each and every customer. Our Ethernet Extender products have been used in submarines, nuclear plants, on trains, in observatories and even in Graceland - Elvis Presley's estate."
He continues: "We are also delighted to announce the addition of the new iCON series of Ethernet Extenders to our range. They are rugged, versatile and the selling price that we have achieved on this line will open up many more avenues of opportunity."
For further details click here iCON series
07.04.2010