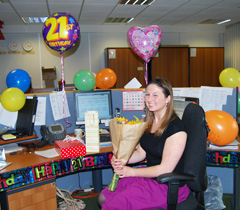 Today, the 29th March, we helped to celebrate a very special birthday with a very special Amplicon young lady!
Our Administrator, Emma Pearce, has at last reached her landmark 21st birthday. We all joined in her celebrations with presents, balloons and banners and the marketing team provided a full montage of pictures featuring her life from birth to the present day. We finished off with a splendid lunch hosted by the Amplicon girls with chocolate cake and candles to follow!
Happy Birthday Emma!
28.03.2010