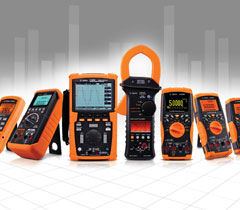 Amplicon announce the launch of their new test & measurement web shop, a fast, secure and user friendly way of providing customers with an extensive range of instruments from industry leaders such as Fluke and Agilent Technologies.
The new web shop provides a wide choice of oscilloscopes, DMMs and signal generators to suit all budgets, along with more specialised instruments such as modular power supplies for test systems and RF Spectrum analysers.
Detailed product information is provided to help customers choose the right instrument for their application, although Amplicon's UK based technical team are on hand to provide further assistance.
Amplicon have invested heavily in stock to enable next day delivery of many products. In addition the recent changes within Agilent Technologies, has meant that the range of instruments available from Amplicon, has more than doubled.
John Hayward, Product Manager for Measurement & Control at Amplicon commented: "Many of our customers prefer to buy on-line using a credit card, and with our new web shop we make it even easier. For example although the recent snow and ice made travelling difficult across the country, the web shop meant we could continue to process and service orders for our customers."
10.02.2010