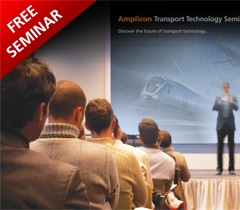 Calling all System Integrators and OEMs working in the road, rail or marine sectors! The 'Transport Technology Seminar' will take place at the Russ Hill Hotel ,Gatwick, on 17th March 2010.
The event is guaranteed to provide innovative new ideas and excellent core knowledge on the application of technologies such as Wifi, 3G and redundant Ethernet communications for Transport Systems. The one day event is completely free of charge and includes a full cooked lunch providing an excellent opportunity to network with delegates and presenters
The seminar is hosted by Industrial networking and computing specialists, Amplicon in conjunction with Moxa – one of the world's leading Industrial Automation product manufacturers. Arkessa, formerly known as Vianet, are also supporting the event with presentations and a live demonstration of the application of GPRS & 3G technologies for transport systems.
Although the event is focussed on the Transport sector, this technology driven seminar is a must for any company involved in the building of automated systems. As industry continues to converge on IP based technologies, the opportunity to learn about Wifi, 3G and redundant LAN networks as well as a session on 'in-vehicle computing', means that attending this seminar is a must for all technology companies.
For full agenda and registration for this event click here
20.01.2010