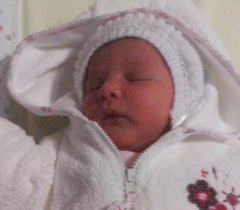 Amplicon are delighted to announce the arrival of 2 very special young ladies.
On the 15th December, our financial controller Suzanne Hegarty gave birth to her first baby. The beautiful Elliot Mae made her debut at 10:30am, weighing in at a very healthy 8lbs.
Not to be out done, Mo Ahmed, one of our sales engineers and his partner, Lara welcomed their first baby on 18th January. Another beautiful girl, Kyla, arrived at 4:30am – bright and early for the working week!
Mothers and babies are doing well, and Dads are still recovering! What a fantastic start to our new year!
Congratulations to both couples.
18.01.2010