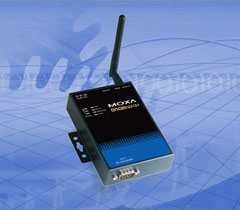 The newly released G3111 from Amplicon is an intelligent IP modem providing customers with a simple method of connecting to serial devices anywhere in the world. The innovative 'Reverse Real COM' mode of operation overcomes the classic connectivity problems inherent in cellular networks making global GPRS connections easier than ever before.
The G3111 (RS232 only) and the G3151 (RS232/422/485 selectable) are a new generation of Intelligent modems that behave like Serial to Ethernet converters with a GPRS network interface instead of the customary 10/100Mbps Ethernet interface. Support for Virtual COM mode of operation makes integration very easy with the physical serial ports appearing as COM ports in a PC's Operating System. GPRS configuration can be complicated the first time it is attempted which is why Amplicon has invested in demo stock, technical videos and SIM cards with static IP addresses – all freely accessible to make the customer's experience as straightforward as possible.
The products have a quad-band GSM/GPRS engine allowing them to be used all around the world and feature a 10/100Mbps Ethernet interface to make configuration easy. The hardened metal enclosure allows the units to be panel or DIN-rail mounted for professional installation. The operating temperature of -30 to +55°C and 12 to 48Vdc power input provide a great deal of flexibility for installers. A 5 year warranty and a list price of less than £250 makes these products an attractive proposition for system integrators and OEMs working with serial devices such as weighing scales, PLCs, scanners, displays and sensors.
David Evans, Product Development manager at Amplicon, commented: "There always needs to be a very compelling business case to generate a change in the way that customers build their systems. The ease of implementation and low price of the G3100 series combined with improved GPRS coverage and greater understanding of cellular systems means that we have a very bright future with these products. Financial savings on site visits to equipment for maintenance or reprogramming will offset deployment costs of a cellular system in a very short period of time."
09.12.2009