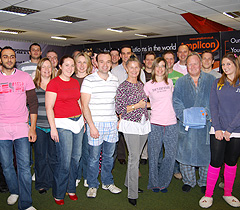 Amplicon have been supporting the Breast Cancer campaign for many years, and every year come up with a new way to raise funds for the charity.
This year the staff at Amplicon could chose to wear their underwear over their jeans or come in pyjamas! A fine was imposed for anyone not joining in the fun!
As you can see from the picture the outfits caused much hilarity especially our telemarketing executive, Bernie Akehurst, who arrived in the office sporting very attractive blue pyjamas, matching dressing gown and his bath towel!
The senior managers each gave up a days holiday pay to boost the funds and this year we have managed to raise £1405!
06.11.2009