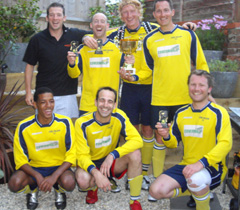 Amplicon's 5-a-side football team have finally made it to the heady heights of Premiership champion status!
A hard fought 2 - 0 victory in the last game of the season and results from other fixtures going their way meant
that Amplicon ended in 1st place of Brighton's top league on goal difference.
Team water boy and Amplicon's graphic designer , Simon 'Clownface' Coxshaw commented:
"It was a great way to finally realise an achievement we have battled for over many seasons. Having put
my boots on the right way round for the first time this season and got my mum to do the laces, I was able to get one of the crucial goals that clinched the title."
08.07.2009