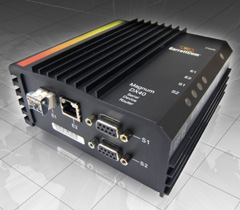 Amplicon have recently launched the DX series of Industrial Routers to extend their range of IP based industrial networking solutions. Amplicon's range of Industrial Routers provide a highly reliable and rugged layer 3 networking solution for Substation Automation, Transport, Marine, Military and many other mission-critical applications.
The DX series routers have IEEE1613 and IEC61850 approval for substation environments. This highlights the product's exceptional environmental and EMC characteristics making them suitable for use in many industrial / military applications.
The routers have fibre-optic, Ethernet and serial (RS232/422/485) connectivity options as well as built in support for Modbus TCP to Modbus serial conversion and network redundancy through RSTP-2004. Each industrial router can withstand a temperature range of -40 to +85°C and comes with professional mounting options such as DIN-rail and rackmount as appropriate.
The DX series has extensive routing and firewall functions that allow the routers to act as a gateway between a corporate and industrial LAN – a common application for Industrial Routers.
The DX900 and DX1000 have 1 and 2 WAN ports respectively. These can provide a WAN connection over a DDS or E1/T1 link enabling remote access directly across a WAN link.
David Evans, Product Development Manager at Amplicon commented:"We have had a great deal of success with Industrial Ethernet switches and Serial to Ethernet converters and we see Industrial Routers as a natural progression for our Data Communications range. Whether people are integrating two separate LANs, building WAN links from remote sites such as substations and roadside cabinets or simply using a router to represent a 'point of presence' for their network, the DX series provides an ideal solution."
For further details please visit:
http://www.amplicon.com/Data-Comms/product/Industrial-Industrial-3926.cfm
15.05.2009