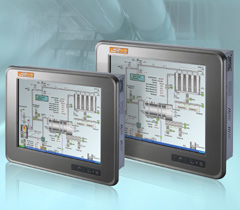 Amplicon have launched the new Senses 6100 series of panel PCs. The series comprises industrial panel PCs with 17" or 15" display, touchscreen and IP65 rated front bezels. The new Senses series has the best price to performance ratio of any Panel PC on the market today.
Prices start from under £1000 providing customers with a high quality yet affordable alternative to the very expensive PLC vendor models available on the market today. They are suited to applications in a variety of markets, especially building automation systems as a "Supervisor" or "Head End", in kiosks and as SCADA terminals in factory automation and process control applications.
The 15" and 17" LCD models are available with dual PCI expansion slots for plug-in cards that provide fieldbus connectivity or without expansion - relying solely on the onboard dual gigabit slots ports for network communication.
Key features include Core 2 Duo high performance processors and low power options; dual Gigabit LAN with wireless LAN option for network communications; dual PCI slots for system expansion; 3.5" and 2.5" hard drive support as well as 2.5" solid state drive support for applications where high shock and vibration resistance is required.
Leon Mengot, Industrial Computing Product Manager at Amplicon commented: "The Senses 6100 series is the most competitive range of Panel PCs we have ever produced. They are feature rich yet very cost-effective allowing our customers to build state of the art systems at very attractive prices.
Amplicon's expertise in Panel PCs, Industrial Ethernet switches and distributed I/O products make us the ideal one stop shop for system integrators and OEMs with Automation projects to complete."
For further details please visit: http://www.amplicon.co.uk/IPC/product/Panel-50.cfm
15.04.2009