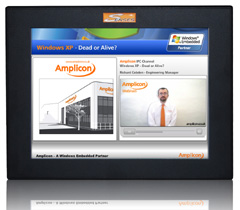 Industrial computing and networking specialists Amplicon have launched a new Webinar initiative that will provide free technical information in a unique and user-friendly fashion.
The bi-monthly presentations will feature important technical content (not a thinly veiled product pitch!) to ensure that attendees get maximum value from viewing the Webinar.
Topics will include:
'How to use the 3G networks for video and data communications'
'Understanding Ethernet for Industrial applications'
'The operational benefits of PXI test systems'
The first of the Webinars - 'Windows XP - Dead or Alive?' - is a plain-English commentary on the future availability of Windows XP for industrial users. Although XP was officially discontinued on 31st January 2009, many Industrial PC users have software or hardware not yet ready for the transition to Vista or Windows 7. This Webinar discusses the license restrictions behind Microsoft's considered gesture of making Windows XP available to industrial users until 2016.
David Evans, Product Development Manager at Amplicon commented: "Amplicon's product management and engineering teams have an unrivalled breadth of specialist knowledge in the field of industrial automation. By sharing this knowledge with our customers we hope to inject technically innovative ideas into the market providing sales opportunities for all involved."
For further details please visit
www.amplicon.co.uk/tv
25.03.2009