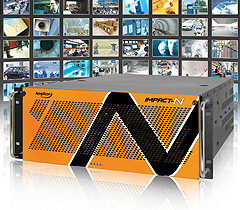 Amplicon have recently launched the 'Impact-N' universal NVR (Network Video Recorder) system – a uniquely flexible solution for recording video in IP based CCTV applications.
Tested with 'Milestone' software and compatible with almost all leading IP surveillance software packages it simplifies the most critical element of IP CCTV system specification - the server.
The Impact-N is available in 3 versions - Lite, Pro and Pro Plus - providing installers and integrators with options for:
Processing power – single Pentium 4 through dual Quad-core Xeon;

Storage capacity – up to 10TB;

Data redundancy – RAID 0,1,5,6,50,60 and others;

HDD type – SAS for fast recording or SATA for cost-effective volume storage;

Operating system – Windows XP or Windows Server 2003;

Installation – rackmount or free-standing and choices for many other parameters that must be considered for a successful IP CCTV installation.
By providing many different options in a single product, the Universal NVR can be used for small (less than 16 cameras) systems very cost-effectively with prices starting at under £1000 as well as in large installations with sufficient processing power to record 64 cameras at up to 25fps per camera.
The key benefit to security installers and integrators is the ability to standardise on one product making spares provision and training straightforward and reducing product installation time through familiarity with the Impact-N system.
Amplicon can provide a fully customised solution and regularly supplies OEM builds with customer specific logo and livery on the front panel.
David Evans, Product Development Manager at Amplicon commented: "Many IP CCTV systems are installed using servers with insufficient processing power or HDD throughput leading to poor system performance. We have combined our 12 years of Industrial Computing expertise with our knowledge of the IP security market to deliver a product that all installers and integrators can adopt."    
16.03.2009