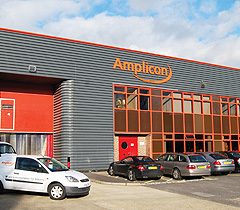 From September 2008 pupils across the UK will have started on their Diploma qualifications, and from September 2009 many thousands more are predicted to join a Diploma course.
The Specialist Schools & Academies Trust (SSAT) practitioner support programme involves employers helping with the preparation, training and supporting of teachers and lecturers, and Amplicon were instrumental in the delivery of the initial workplace training event for the engineering sector.
Amplicon aim to engage their visitors in a day of hands-on motivational training. It will begin with access to staff who will describe their own educational experiences and their first faltering steps into the workplace. This will be followed be the chance to work with key managers and design a key skill matrix and end with a group discussion on how to best develop these skills.
Gina Citroni, Amplicon Commercial Director, and the Brighton & Hove Ambassador for Engineering commented 'After such a successful and enjoyable day we were delighted to be able to assist again in a programme that we believe will become an educational triumph'.
26.02.2009