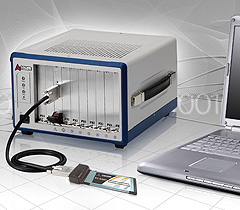 Amplicon have introduced a new range of PXI bridge cards, to link a PC or laptop directly to PXI instruments. This allows test systems to be controlled using a cost-effective PC or laptop providing lower cost of ownership and greatly increased flexibility of test system design.
PXI delivers improvements over standard computers when building test systems, such as front loading cards and terminals, rugged temperature controlled chassis, and internal synchronisation of instruments for improved timing.
The new bridge cards enable the benefits of PXI technology, without the expense of a dedicated PXI controller. They allow engineers to build rugged, flexible and portable ATE (Automatic Test Equipment) using existing IT hardware at a time when budgets are limited.
The new ADLINK PXI-8565 provides fast data throughput via the ExpressCard EC-8560 (for laptops) or the PCIe-8560 (for PCs). Data from digitisers, oscilloscopes, signal generators and other PXI data acquisition cards can be transferred more quickly to the host PC, allowing faster control and analysis during ATE test routines.
John Hayward, Product Manager for Measurement & Control at Amplicon commented: "Our new PXI bridge kits enable existing computers or laptops to be utilised as part of a high performance PXI test system. This results in a significant cost saving compared to the use of an embedded PXI controller."
07.01.2009