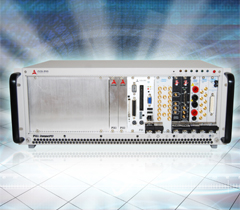 PXI is an industry standard test platform with over 50 vendors worldwide. Many system integrators mistakenly believe they must source all PXI products from one vendor, or suffer compatibility problems.
To raise awareness and counteract this misunderstanding, Pickering Interfaces has teamed up with Amplicon to offer UK test system builders an extended choice of PXI platforms, instruments, switches and cabling solutions. All PXI products have to meet the specification defined by the PXI Systems Alliance to ensure compatibility, and there are now hundreds of multivendor systems being used in test applications worldwide.
Amplicon offers a wide selection of PXI products from such major vendors as Geotest, ADLINK and ZTEC, while Pickering Interfaces manufactures the industry's largest range of PXI switch modules and interconnection solutions.
Nick Hickford, Pickering's UK Sales Manager, explains: "Many system designers do not fully appreciate the degree of interoperability that PXI offers and may compromise their designs by trying to source all components from a single vendor in order to avoid any supposed integration issues. Our UK marketing collaboration with Amplicon is intended to help engineers build the highest performance and most cost effective T&M systems by guiding them through a choice of fully compatible products from a number of leading PXI vendors."
John Hayward, Amplicon's Product Manager for Measurement & Control comments: "The collaboration between Amplicon and Pickering reinforces the fact that PXI is an open standard, which allows users to choose each part of the test system from any vendor. Ultimately, this new alliance will give the UK market more choice and a greater opportunity to cut costs when designing PXI based test systems."
18.02.2009