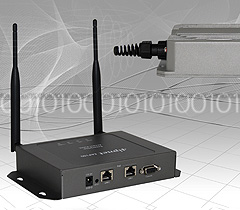 Amplicon have secured the rights to distribute 4ipnet's line of industrial wireless products throughout the UK. 4ipnet have an impressive portfolio of OEM customers including some of the world leading wireless brands but have never invested heavily in developing their own global brand presence. Now, with a very strong product set and the full benefit of Amplicon's technical sales and marketing machine, the partnership is expected to generate six figure revenues in the first year.
The product range currently comprises 3 x models - CPE-100, CPE-110 and EAP-100 with a unique dual radio Access Point (AP) expected to be available in Q1 2009.
The CPE-100 series comprises IP68 rated outdoor APs with PoE and extensive network features including NAT, DHCP and WPA2 security. The CPE-100 variant is fitted with an N-type connector for the customer's choice of antenna whereas the CPE-110 has a built in patch antenna.
EAP-100 is a low cost IP50 industrial Access Point with dual PoE ports for power redundancy. It can support up to 8 x SSIDs effectively operating as 8 physical APs in a single enclosure. Each virtual AP can be represented on the wired side by a specific VLAN which isolates network traffic across the system.
David Evans, Product Development Manager at Amplicon commented: "4ipnet have exceptional products at exceptional prices and provide exceptional technical support. To have secured exclusivity with such a company is every product manager's dream."
"Amplicon will be able to sell an IP68 rated outdoor Access Point with a very rich feature set and 2 year warranty for less than £200, half of the current market price."
One of the first customers for the CPE-100, Ross Burrows, Project Engineer at Smart CCTV, made the following observations about the product: "The CPE-100 is a very solid and reliable piece of equipment. Our tests showed it was easy to configure and performs as expected. We like the fact that the unit is PoE and is IP68 rated." Mark Ramus, Technical Engineer at Smart CCTV commented: "As a product designed to go outside it is a very robust unit and connected to our equipment without any issues. The fact that it is external means that you dont need a box to put it in and the user interface is simple to navigate."
13.02.2009