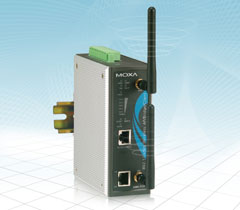 Amplicon have launched the AWK-3121 Industrial wireless 802.11a/b/g Access Point (AP) to provide wireless connectivity for industrial applications. It is the first AP from Amplicon to support the 802.11a band allowing system integrators to avoid the congested channels of the consumer driven 2.4GHz band.
The AWK-3121 is shipped in a hardened metal case with dual redundant 24Vdc inputs. Direct DC powering via screw terminals makes the unit very useful for in-vehicle and outstation applications where mains power is not typically available. Power over Ethernet can also be used to simplify cable installation.
The enclosure can be wall or DIN-rail mounted and affords IP30 protection to internal components. The 'T' version supports a wide -40 to +75°C temperature range for outdoor applications.
WEP, WPA, WPA2, 802.1X and packet filtering are standard security features ensuring that sensitive data is not read by 3rd parties. SNMP and DHCP support make management simple.
Special features of the AWK-3121 include:
1) 2 x electrically isolated digital inputs that can be used to send alarms via email or SNMP traps – ideal for integration into industrial automation systems.
2) Support for Rapid Spanning Tree Protocol (RSTP) which allows multiple APs to form a redundant backbone. Because RSTP is an industry standard, a combination wired and wireless network can be configured to run a single instance of RSTP with redundancy managed by switches on the wired side and APs on the wireless side.
3) 5 year warranty as standard!
06.02.2009