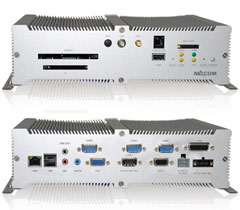 Amplicon has launched the VTC 3300E - a rugged, high reliability and fanless PC designed for use in a wide variety of vehicles. The VTC3300E provides the market with a cost-effective and credible alternative to the limited range of in-vehicle PCs currently available.
The VTC-3300E has been designed from first principles with vehicle environments in mind. It features power ignition control to accommodate various power sources and to prevent the PC from running the battery flat when the vehicle's engine is switched off. An 8.4" in-vehicle monitor is also available to provide integrators with a turnkey hardware solution.
GSM/GPRS is included for mobile communications allowing the PC to stay permanently connected to a head office or other vehicles. GPRS coverage is currently around 99% in the UK making 'always on' communications a very real possibility. A built-in GPS receiver can be used for navigation and to provide fleet operators with real-time information on the location of all vehicles.
VTC-3300E is designed to accommodate ruggedised mechanical hard drives as well as solid state drives capable of withstanding the constant shock and vibration of an in-vehicle environment. With solid state drives, the system supports a wide operating temperature range and can be mounted in any orientation. Dual video outputs, 4 serial ports, 3 USB ports and an Ethernet port complete an impressive array of connectivity options.
The VTC-3300E is suited to a wide variety of applications including real-time passenger information display, bus or train schedule monitoring, fleet management, mobile communication, vehicle tracking, in-vehicle surveillance and mobile digital signage.
19.12.2008