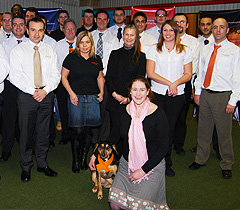 A furry friend at work can increase productivity while also helping to relax staff, so Amplicon have decided to adopt Charlie Dog.
A recent survey commissioned by animal charity the Blue Cross found that 90% of companies who allowed dogs in the workplace noticed a positive change in the working environment; two-thirds claimed staff morale had lifted; 56% said pets had improved work relations; and half even noticed a decrease in absences.
With so many benefits to allowing a pet into the workplace, Charlie Dog will become a member of the Amplicon team every Friday.Kathryn Kelly, the Amplicon buyer, and owner of our new four legged staff member commented, ' Charlie has been very excited at the prospect of her new position and is already firm friends with many of the Amplicon team'.
21.01.2009