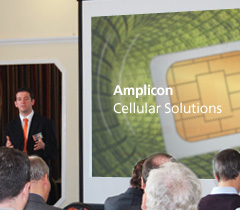 Amplicon's cellular communications specialist, David Evans, has been chosen to deliver a presentation on the application of GPRS & 3G technology at the IIPSEC exhibition - 27th to 29th January. The content will provide participants with all the basic knowledge required to connect to IP cameras, DVRs, video servers, serial devices and any other networked device anywhere that a mobile phone signal can be received.
"Amplicon has many years expertise in designing wireless GPRS & 3G solutions. This speaker opportunity will help us to spread the message about the rapidly evolving cellular market and we strongly recommend that anyone interested in cellular systems should attend!" David Evans, Product Development Manager.
If you would like to learn more about cellular technology or Amplicon's involvement in the IIPSEC exhibition, please do not hesitate to contact our sales team on 01273 570 220 or email
sales@amplicon.co.uk
.
13.01.2009