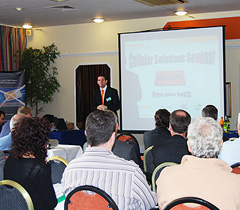 Industrial communications and computing specialists Amplicon has recently hosted a 'Cellular Solutions Seminar' that was heavily over subscribed.
Despite the current climate of 'belt-tightening' over 50 delegates paid to secure a place at the event in the Russ Hill Hotel in Gatwick.
Content was delivered by industry experts from Amplicon, Digi, Vianet and Sarian providing the delegates with a detailed overview of how GPRS and 3G communications can be applied in a variety of industrial markets.
A straw poll of the audience highlighted that 45% of attendees were interested in using cellular communications for CCTV / surveillance projects and 35% wanted to apply the technology to Industrial Automation systems.
Amplicon's Product Development Manager, David Evans, commented:
"With high drop-out rates a given at most seminars, we took the decision to charge a nominal fee of £49 for the day. We were delighted by the response that showed a serious and qualified interest in cellular GPRS and 3G technologies. Such has been the response, we are looking to re-run the event to accommodate all those that we were unable to offer a place to first time round."
Anyone interested in attending the next seminar should contact Amplicon's sales team or visit www.amplicon.co.uk.
06.11.2008