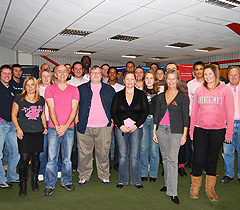 Breast Cancer Campaign dared everyone in the UK to make a difference by wearing an item of pink on Friday 31 October and donating £2 to the charity to help beat breast cancer.
Amplicon have been supporting this campaign for a number of years, and this year not only did we pay our £2 for wearing pink – anyone not in pink was 'fined' a further £2. We also raffled 2 additional half days of holiday and these were won by our junior administrator, Emma Pearce and the engineering manager, Richard Cobden.
At the end of our wear it pink day Amplicon had raised £300 for the charity.
05.11.2008