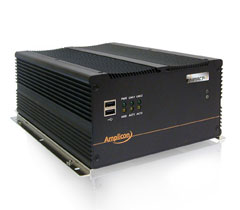 Amplicon has announced the launch of the Impact-E 52 'Core 2 Duo' embedded computer. The PC packs a massive punch with three times the processing power of its predecessor in the same 0.05m² foot-print. High-end ANPR (Automatic Number Plate Recognition) and SCADA applications are key targets for the superior processing capability of the Impact-E 52.
Embedded computers are designed to provide a rugged, stable and reliable platform for applications in harsh environments or where space is limited. Many road-side and trackside cabinets contain embedded computers running the core applications of intelligent transport systems. Historically, the processing power in such systems has been low but the Impact-E 52 bucks the trend providing Core 2 Duo performance in a very small foot-print.
Leon Mengot, Industrial PC product manager at Amplicon commented:
"It is great to see Moore's law in action in the embedded computing space! Increased processing power and network bandwidth means embedded computers can perform data collection, processing and server tasks all in one enclosure. We expect the Impact-E 52 to change the way people think about embedded computing."
The Impact-E 52 has dual video outputs, dual Gigabit LAN ports, dual PCI slots, 4 Serial ports and 6 USB ports. Onboard storage options include an industrial grade 2.5" hard disk drive or a solid state drive for operation in harsh environments. Compact Flash cards are also supported.
25.09.2008