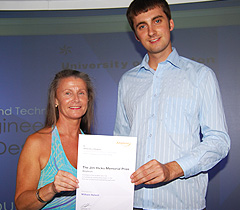 The Division of Engineering and Product Design at Brighton university hosts an award ceremony annually to mark the outstanding academic achievements of its students. The awards are highly prestigious and represent an exciting end to the university year. The prizes are sponsored by both local and national companies who operate in the industries that these young graduates will look to for employment.
This event has been sponsored by Amplicon for a number of years. "The Jim Hicks Memorial Award"named in memory of the founder of Amplicon. This decision was taken by the new owners of Amplicon to mark Jim's own passion for engineering and even more so the education of our new engineers. He had been heavily influenced by his own experience as an apprentice and was committed to promote engineering skills at all levels. He continually supported ventures and initiatives that strengthened engineering; and he was a tireless champion of the local university Innovation Centre and worked hard to bring together Sussex academia and Sussex business.
The award sponsored by Amplicon was for the student who completed an outstanding project in their final year of electrical and electronic engineering pathways. It was won by William Holwill; William will be continuing his education by following his current exam success with a Masters Degree. The presentations were watched by proud families and friends of the recipients who made the day a celebration of excellence an event to remember. The award was made by Gina Citroni, Commercial Director and owner of Amplicon "To present this award that carries the name of our founder, Jim Hicks, was a great moment for me. It is important for us that we continue Jim's work and recognise engineering talent and excellence particularly at local level".
Dr Dal Koshal "We are delighted that Amplicon, one of Brighton's most successful engineering companies, is happy to continue to support the University Engineering Division. Industry backing for our students is key to the success of our future engineering workforce".
22.08.2008