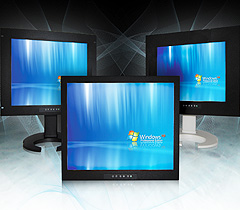 Amplicon has announced that its latest range of industrial monitors, the Pro-Lite II series, are now available. These robust, rugged LCD monitors are suited to a wide variety of industrial applications and environments in various markets where waterproof and dustproof capabilities are required as standard.
The Amplicon 'Pro-Lite II' supersedes the extremely popular 'Pro-Lite' series. This new series comprises industrial monitors with LCD sizes of 12", 15", 17" and 19", 3mm protective glass and a wide operating temperature specification of 0 to 50°C, enabling them to be fully functional as well as reliable in extreme environments.
David Evans, Product Manager at Amplicon commented, "With IP65 rated front panels, wide temperature operation and versatile mounting capabilities, these affordable industrial monitors are suited to industrial applications in various market applications including factory automation, building automation, process control, transportation and digital signage."
The Pro-Lite II models are available in wall, rack, panel and VESA mount orientations. In addition to this, they can be placed on desk or bench tops. Open frame models are also obtainable. Other features of the Pro-Lite II series include: display aspect ratios of 4:3, contrast ratios of up to 1000:1, brightness of up to 400cd/m² and wide viewing angles of up to 160° enable these monitors to provide optimum visual performance. Furthermore, there are capacitive and resistive touch screen options and Onscreen Display (OSD) controls which deliver an easy to use Human Machine Interface (HMI).
The new Pro-Lite II range is available from Amplicon now.
06.08.2008