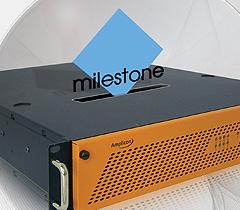 Amplicon has recently been named the official solution partner of Milestone Systems, a global leader in open platform IP video management software. The appointment comes in recognition of the work carried out by Amplicon's Security Automation division to develop a range of IP CCTV storage servers. These servers effectively meet the requirements of Milestone's extensive surveillance software solutions and, as such, a partnership has ensued.
David Evans, Product Manager at Amplicon commented, "It has not been easy to achieve Milestone Solution Partner status. Companies must prove their pedigree over time if they are to join this scheme and we are delighted that after two years and many successful projects together, Amplicon and Milestone are now formally recognised as partners."
He added, "This marriage of high quality video software with our rugged and powerful hardware allows new entrants to the IP CCTV market to source servers and software that are designed to work together, minimising the risk of a poorly performing IP CCTV system."
IP based CCTV systems have three key components: IP cameras, IP surveillance software and the PC or server required to run and view the software. The security market has recently seen an inundation of IP cameras and software but very little attention has been paid to the servers required to run these systems in order to achieve optimal performance.
Specifying a server system with sufficient power to handle the large amount of data traffic through the network ports, and with the capability to reliably write the data to disk, is not a trivial task. Amplicon has extensively tested its servers to generate performance calculations that allow the right server to be specified so that the camera software, resolution and frame rate fulfil end-user expectations.
01.08.2008