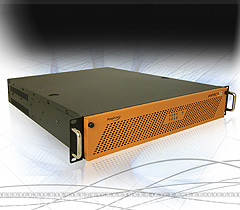 Industrial grade video-servers at under £500 per TB
Amplicon is now offering a fully featured storage server with 4TB of storage for under £2000. The
Impact-S 2000
is an extremely cost-effective server for IP CCTV applications and has been tested with Milestone, Axis Camera Station and several other mainstream IP surveillance packages.
In IP CCTV applications where high frame rates and high resolution are required, the cost of storage can be prohibitive. The Impact-S 2000 from Amplicon is an off-the-shelf server that will run IP surveillance software and provide up to 4TB of hot-swappable storage. The introduction of the Impact-S 2000 will make IP CCTV a far more attractive prospect to installers and integrators that are looking to make the move from the analogue world, or for existing IP converts who want to cut their server costs.
The unit is designed to fit into 2U of rack-space and has a rugged metal housing. Quality components are used throughout; enterprise class Hard Disk Drives are used to provide reliable 24/7 operation. In contrast, most standard drives are only designed to run an 8-5 (office hours) duty cycle. A separate internal 250GB disk is used to keep the Windows XP operating system on a separate drive and to avoid losing valuable storage space to other tasks. The onboard RAID controller can be used to increase data throughput and reliability.
The Impact-S 2000 can be configured to meet the exact requirements of customer applications. In addition, Amplicon can offer help with the potentially difficult task of calculating the total storage required in an IP CCTV system. For larger systems that require more storage, the Impact-S4000 and Impact-S 6000 provide up to 36TB of storage, 64GB of RAM and are equipped with Dual Xeon processors, for even higher performance.
David Evans, Security Automation Product Manager at Amplicon said, "The Impact-S series is the first range of
storage servers
designed exclusively for IP surveillance applications. We have conducted extensive testing with the Milestone team at its Denmark HQ to ensure that our servers are optimised for IP CCTV and are capable of running with many concurrent video streams. The feedback that we have received about the price of our systems has also been very encouraging – our high quality, customised systems now regularly undercut the big guns in the server market."
06.06.2008