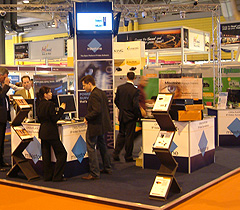 Amplicon's Security Automation division enjoyed an excellent IFSEC 2008 show attracting many enquiries from prospective distribution partners and re-enforcing their position as the server supplier of choice for IP surveillance applications.
The International Fire & Security (IFSEC) show is the leading event of its kind featuring almost 1000 exhibitors across several halls of the National Exhibition Centre in Birmingham. At this year's event, Amplicon shared a stand with leading IP surveillance software company Milestone. This was a natural choice of partner as, to run effectively, Milestone's surveillance software requires Amplicon's high quality and reliable servers.
Amplicon's 'Impact-S' range of servers attracted a great deal of attention from companies wishing to deal with a server supplier that understands the requirements of IP CCTV systems and can provide complete flexibility with very attractive pricing.
Potential distributors should visit Amplicon's storage server section for more information or call our sales team to discuss commercial opportunities.
28.05.2008