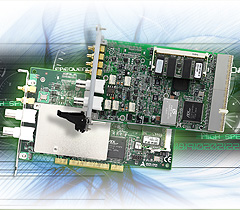 Amplicon has passed significant price reductions from its supplier ADLINK onto its customers for data acquisition products. High speed dual channel digitisers have been reduced by between 30 and 40% .This reduction is the equivalent of a mark down of around £1,300 on some products. Amplicon and ADLINK have introduced price reductions in order to maintain their competitive edge in the Analogue to Digital Converter (ADC) market. The digitisers are an effective way of improving the measurements of logged data and therefore an ideal solution for RF, sonar and other high speed data acquisition applications.
Amongst those products experiencing the greatest price reductions are the ADLINK PXI-9820 and PCI-9820. Both products are dual channel, 14-bit analogue input cards which analyse ultrasonic waveforms, RF or IF signals by using PXI or PC-based hybrid test system technologies. The data acquisition cards or 'digitisers' convert analogue signals into data signals allowing a computer to successfully process the information.
The innovative PXI-9820 and PCI-9820 models allow users to sample two channels simultaneously at up to 65MS/s, or one channel at 130MS/s which simulates a "ping-pong" effect. In addition a 128MB of on-board memory is provided as standard, with the option of increasing this to 512MB to be compatible with longer waveform samples. The acquisition of samples may be triggered by analogue or digital signals, with pre and post-trigger modes available.
John Hayward, Product Manager of the Measurement and Control group at Amplicon commented, "ADLINK has been able to significantly reduce prices due to the lower ADC costs in the market and we are delighted to be able to pass these price reductions onto our customers. This move will mean that our customers can now get faster sampling speeds for an extremely commercially competitive price."
20.05.2008