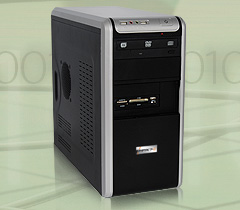 Amplicon has launched the
'Impact-C'
low cost
desktop/client PC
to bolster its range of computing solutions. The Impact-C is a cost-effective and high-quality desktop PC for office and non-industrial environments. The system is built in the UK with high quality components and is designed to operate as a client or workstation in distributed applications, such as IP CCTV.
The addition of the Impact-C to Amplicon's already extensive range of PCs allows Amplicon to offer both high performance servers and cost effective client PCs for an even wider variety of applications for example in IP surveillance, building automation and medical systems.
Leon Mengot, Industrial PC Product Manager at Amplicon commented, "The Impact-C highlights Amplicon's commitment to providing a range of products from high-end servers to simple operator workstations at an extremely competitive price point. The Impact-C is priced at only £299. In addition, unlike many other suppliers of PCs, Amplicon is able to offer customer technical support and repeatable products. Our customers have also often expressed a desire to be able to purchase all computing equipment from a single source and we have responded to this need - Amplicon is now a one-stop shop."
It is anticipated that one of the primary uses of the Impact-C will be in IP CCTV applications. These systems require a high performance, high reliability central server for recording and archiving video footage in conjunction with low cost client PCs for live viewing and playback of archived video. Many manufacturers in the security market supply an IP camera or video server but do not provide a complete solution. Amplicon's computing solutions can be used by any installer or integrator to develop a cost-effective system using any brand of IP camera. This positions Amplicon as an attractive partner for all of the pioneers in the IP CCTV market.
The Impact-C is available from Amplicon from the beginning of May.
15.05.2008