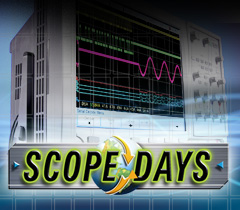 Amplicon is running a number of training days for its customers in conjunction with its partner Agilent. The Amplicon and Agilent '
Scope Days
' will tour the UK to educate customers about the possibilities that the Agilent family of
oscilloscopes
present. The training sessions will focus on, and can be tailored to, the training needs of the individual customer. Hosted by both Amplicon and Agilent, the sessions take the form of one hour events at the customers' site.
Sample topics for the day include: looking inside an FPGA with dynamic probes; serial bus analysis; validating ATE systems; or debugging embedded mixed-signal designs with an MSO. Attendees will get to spend hands-on demonstration time with the Agilent portfolio. There will also be the opportunity to ask the Amplicon and Agilent experts how to solve specific problems and to learn useful tips.
Amplicon supplies Agilent's economy oscilloscopes and the InfiniiVision range of analogue and mixed signal oscilloscopes, starting with a dual channel 60MHz bandwidth oscilloscope, going up to a four channel 1GHz bandwidth oscilloscope with 16 digital channels, and a 12" display. Amplicon offers bench-top oscilloscopes to meet a variety of budgets and performance needs, from serial data bus de-bug to R&D requirements.
Doug Saunders, Marketing Manager at Amplicon commented, "These training sessions have been designed with our customers in mind. The events can be just about anything the customer wants them to be. Something as informal as a product show set up over the lunch hour in the canteen or a technical symposium addressing a specific application need that the customer is trying to tackle."
For more information about the Amplicon and Agilent Scope Days, please contact John Hayward at Amplicon.
09.05.2008