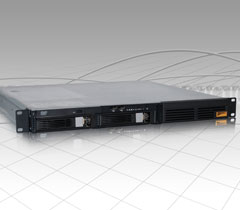 Amplicon has announced the addition of a new 1U rackmount computer to its own brand 'Impact' range. The
Impact 1015
will further strengthen the already extensive Impact range which now includes 1U, 2U, 3U and 4U motherboard based rackmount computer systems.
The Impact 1015 1U rackmount system has a PCI Express (PCIe) x16 slot and dual hot-swappable hard disk drive (HDD) bays. Also included in the system is a dual Gigabit LAN port and dual front and rear USB ports, a DVD-ROM drive and a serial port. The standard version is also equipped with a 250GB 3.5" HDD (which may be upgraded to up to 2 x 1TB HDDs), a 300W power supply unit (PSU) and a 1U rackmount chassis with a shallow depth of 442mm.
Based on the Intel 3200 + ICH9R chipset, this system incorporates an Intel Core 2 Duo processor, which may be upgraded to a Dual-Core Intel Xeon 3000 series or a Quad-Core Intel Xeon 3200 series processor.
In the Impact 1015 all available internal space has been utilised for optimum performance, making it ideal for server applications where space is at a premium. Furthermore, using the PCIe x16 slot, this system can be cascaded with Amplicon's recently launched Magma EB4-1U to provide four PCIe x16 slots in 2U rack space. If required, the system can be further daisy chained to other Magma EB4-1U systems to offer four more PCIe x16 slots with every additional 1U.
Leon Mengot, Product Manager for Industrial Computing at Amplicon, commented, "Amplicon continues to lead the way with innovative industrial computing solutions. This is yet another example of our ability to respond effectively to our customers' varied application requirements."
All of Amplicon's industrial computing systems can be tailored to meet specific customer application requirements and can be supplied with on-site warranty.
30.04.2008