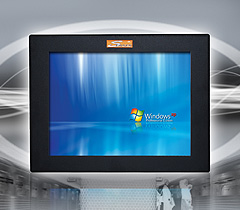 Amplicon has announced the addition of new
ultra-slim, fan-less and silent Panel PCs
to its range. This further strengthens the Amplicon own brand range 'Senses', which already consists of the Senses 3170 - 17" and the Senses 3155 - 15" Pentium M based panel PCs. These industrial computing systems provide easy and cost-effective human machine interface (HMI) for SCADA applications.
Amplicon is already renowned for providing a wide range of leading edge industrial computing solutions. It has now expanded its Senses panel PCs to include wide temperature and silent operation solutions. Amplicon Senses panel PCs comprise rugged solutions with various LCD screen sizes. The new series models are the Senses 5100S which is a silent panel PC with 10" resistive touch screen display. The Senses 5120S is a silent panel PC which offers a 12" resistive touch screen display. Whilst the Senses 5150S is a silent panel PC with 15" resistive touch screen display.
The Senses 5100S, 5120S and 5150S panel PCs come equipped with low power Intel Celeron Mobile processors, 1GB RAM and IP65 rated front panels as standard. The rugged fan-less chassis design acts as a heat sink and eliminates the need for active cooling. The IDE connection is ideal for connecting to a 2.5" hard disk drive or solid state drive, and CompactFlash cards are also supported. These systems can be panel, wall, desktop or VESA mounted.
With IP65 rated front panels, shock-mounted storage drives, wide temperature operation models, wireless LAN options and versatile mounting capabilities, these panel PCs are suited to industrial applications such as process control, building, factory and transport automation.
Leon Mengot, Product Manager for Industrial Computing at Amplicon, commented, "This is another example of Amplicon's ability to lead the way in innovative industrial computing solutions. The three new systems enable even more varied deployment of the solution, for example in harsh temperature environments, to suit our customer's diverse needs."
All
Amplicon industrial computing systems
can be tailored to meet specific customer application requirements.
01.04.2008