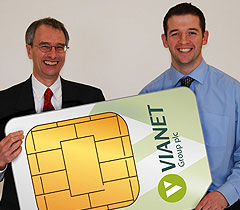 Amplicon has recently partnered with M2M specialists Vianet to make the delivery of cellular connectivity solutions simple. The agreement will allow Amplicon to provide cellular hardware such as 3G routers and GPRS modems with SIM cards that have been extensively tested and are known to work together. In addition, the hardware will support all major 3G networks. Amplicon can also offer a SIM through Vianet that locates an alternative network if the one used has gone down.
The combined expertise of Amplicon in the hardware domain and Vianet with cellular networks, will provide customers with the pre-sales consultancy needed to be able to productively and successfully apply cellular technologies to their purposes. With high-speed cellular networks in the UK now providing data rates of 7.2Mbps over the air, many new projects and applications are emerging, particularly in the CCTV/ security sector, where live video over 3G has become a popular application.
Amplicon has also launched several new Digi products to support its continued push into the M2M space. The Digi Connect® WAN GPRSi is a low cost Ethernet and serial (RS232/422/485) GPRS router designed for high volume telemetry applications such as automatic meter reading and fire alarm/ control panel monitoring. The Digi Connect® WAN 3G is a small form-factor and rugged 3G router capable of data rates up to 7.2Mbps. In-vehicle approvals make this router suitable for mobile systems. Finally, the Digi Wi-Point 3G™ is a combination 3G and wireless LAN router. It is used for providing temporary wireless internet connectivity or as a back-up service thanks to VRRP (Virtual Router Redundancy Protocol) support.
David Evans, Data Communications Product Manager at Amplicon commented, "The M2M market is at the beginning of a new substantial growth phase. The market has been crying out for an independent, single-source solution provider and we have responded to that need. By pulling together the best hardware, the best SIM card provider and by offering free technical consultancy, we plan to take a substantial share of the UK market."
10.03.2008