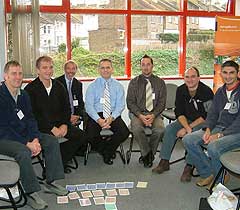 Amplicon, a provider of connected computer-based measurement and automation systems, has demonstrated its support for education by hosting a Specialist Schools and Academies (SSAT) trust study day for teachers who will implement a new government educational initiative. The new initiative is intended to better equip 16-18 year olds for the workplace and consists of diplomas available in five key areas, including engineering.
On the 13th November a number of local teachers and lecturers from East Sussex attended a training day at the Brighton based business to help implement the engineering diploma. The training is designed to be carried out in a modern engineering environment, where teachers can tour production facilities and are made aware of the latest engineering practices and technology. They have the opportunity to speak with the younger members of staff to find out what drew them to a career in engineering and what educational path they followed. Employers can also discuss the typical entry processes and the criteria they look for when recruiting. The result is students and teachers who fully understand what an employer requires from its employees.
The day was a great success. A company presentation followed by a tour of the facilities kicked off the training day. The teachers and lecturers then had the chance to speak with various members of Amplicon's staff.
The diploma itself combines essential skills and knowledge, hands-on experience and employer based learning, to prepare a young person for work or further study. The diploma qualification has been developed with employers to offer a dynamic and exciting way of learning based around an employment sector. The ultimate goal is to deliver better prepared young people with a sector-relevant foundation.
Gina Citroni, Commercial Director, at Amplicon commented, 'This is an exciting opportunity for employers in key industry sectors to contribute to the education of the young people we would like to employ in the future. We are very pleased to be able to contribute to its implementation'.
David Bunce, Curriculum Leader for Engineering at Sussex Downs College reflected this sentiment, 'I would like to express my gratitude to Amplicon for its hospitality and excellent presentation. It is extremely encouraging to have the support of such an inspirational local company'.
20.12.2007