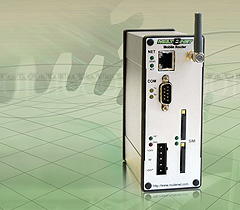 Amplicon has recently signed an exclusive agreement with South African manufacturer, Multenet, to distribute its unique range of cellular routers in the UK and Ireland. The products will strengthen Amplicon's existing portfolio by providing a cost-effective range of cellular routers designed to operate across GPRS, EDGE, 3G or HSDPA mobile networks.
Cellular routers use mobile phone network infrastructure to provide data connections to networked devices anywhere that a cell-phone signal can be received. This means that equipment in remote locations where no DSL lines or cable connection exists can still be connected via the internet to a central server. In effect, hundreds or thousands of devices around the globe can be monitored in real-time from an office using cellular networks and the internet as the interconnecting media.
The first product in the range – the 'Mobile Router', is a cost-effective solution for connecting to Ethernet and serial devices via the internet. The unit supports dual SIM capability so if one network goes down the router will automatically divert over to the alternative network. A built in VPN client allows the unit to connect to a remote VPN server using PPTP or L2TP. This provides secure data transfer which is especially useful for point of sale transactions or anywhere that the data is considered to be of a sensitive nature. A VPN solution also allows for easy management of many cellular devices by making them appear that they are attached to a local network. A software selectable serial interface means that the unit can also connect directly to RS232, RS422 and RS485 devices through the DB9 connector on the front panel.
David Evans, Data Communications Product Manager at Amplicon, commented, "The advent of high speed cellular technologies, especially 3G and HSDPA has made high bandwidth applications such as live video across mobile phone networks a reality. As Over The Air (OTA) bandwidth increases the possible applications of cellular routers are increasing exponentially. The products are high quality and the technical expertise of the team at Multenet is second to none. Being able to answer the difficult technical questions quickly is key to success with this type of product and Multenet and Amplicon add a great deal of value in this area."
A version of the Mobile Router with support for 3G & HSDPA is due for release in December and innovative variations on the cellular router concept are also planned for release in early 2008.
22.11.2007